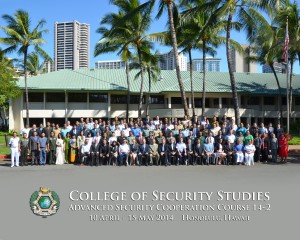 The Asia-Pacific Center for Security Studies proudly welcomed 101 additional Fellows into its APCSS alumni ohana today during a commencement ceremony for the Advanced Security Cooperation 14-2 course, held from April 10 to May 15, 2014.  This diverse group of security practitioners represented 33 different countries, territories, and economies and was comprised of senior leaders and officials from the military, law-enforcement agencies, foreign affairs, government and other public sector branches, academia, and international organizations.
In attendance of the regional security course were participants from: Bangladesh, Cambodia, Canada, China, Columbia, India, Indonesia, Kiribati, Laos, Lebanon, Malaysia, Maldives, Marshall Islands, Micronesia, Mongolia, Myanmar, Nepal, Pakistan, Palau, Papua-New Guinea, Philippines, Russia, Samoa, Singapore, South Korea, Sri Lanka, Taiwan, Thailand, Timor-Leste, Tonga, Tuvalu, Vietnam and the United States.
APCSS hosted its first two State Department-funded Fellows through cross-collaboration with the Symposium on East Asian Security (SEAS) program.  This program brings together both military and civilian officials from the Asia-Pacific region to share perspectives and gain a better understanding of regional issues and potential areas that will foster greater cooperation amongst nations in the future.  APCSS looks forward to more productive engagement with the SEAS program through the U.S. Department of State.
This intensive, executive education course spanned four and half weeks and is designed to enhance individual leader capabilities and knowledge in an applied learning experience in Honolulu. In this endeavor, APCSS was supported by a wide array of U.S. organizations that offered support to our Fellows: the Office of the Secretary of Defense for Policy, U.S. Pacific Command, U.S. Special Operations Command, U.S. Coast Guard, USAID, Honolulu Police Department, the East-West Center, the University of Hawaii, and the APCSS Foundation.
Other ASC 14-2 course highlights included key-note speeches from distinguished leaders, ADM Harris, Commander of U.S. Pacific Fleet, and Mr. Tom Kelly, Assistant Secretary of State for Political Military Affairs.  Several visits from distinguished guests were also incorporated into the schedule, including: Chief of the Army Staff for Nepal, General Gaurav Rana (EC 99-1), U.S. Deputy Assistant Secretary of State, Mr. Atul Keshap, Deputy Foreign Minister on Taiwan, Ting Joseph Shih, and returning APCSS Alumnus, Mr. Munir Chowdhury (CCM 13-1), Director of the National Population and Research Institute (NIPORT) in Bangladesh's Ministry of Disaster Management and Relief.
The Asia-Pacific Center for Security Studies is a Department of Defense institute that addresses regional and global security issues. Military and civilian representatives, most from the U.S. and Asia-Pacific nations, participate in a comprehensive program of executive education, professional exchanges and outreach events, both in Hawaii and throughout the Asia-Pacific region. The Center supports the U.S. Pacific Command by developing and sustaining relationships among security practitioners and national security establishments throughout the region. APCSS' mission is to build capacities and communities of interest by educating, connecting, and empowering security practitioners to advance Asia-Pacific security. It is one of the Department of Defense's five regional security studies centers.
Since opening in 1995, the Center has had representatives from over 122 countries and territories attend APCSS courses and workshops, for a total of 8,481 alumni.