Today's Distinguished Visitors
Allan Criss – Digital Media Specialist

John doe – New title here

Title here

Time: 2:30 p.m.
Location: Maluhia Hall
Lead: PAO
Mary Markovinovic: Director, Center for the study of Chinese Military Affairs, NDU

Time: 4:30 p.m.
Location: C200
Lead: Director
Rian Pada: Apcsslink Administrator

Eric Bartolome – Public Affairs Office

Time: 3:30 p.m.
Location: B105
Lead: Dep Dir
In Their Own Words: Fellows describe their DKI APCSS experience
History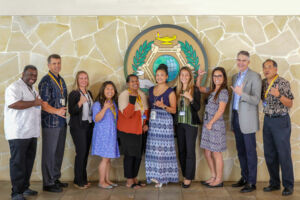 September 30, 1994
President Clinton signed H.R. 4650, which included $3 million for the start-up of the Daniel K. Inouye Asia-Pacific Center for Security Studies, patterned after the George C. Marshall European Center for Security Studies.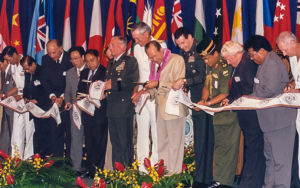 September 4, 1995
The Center officially opened on Sept. 4, 1995, with a ribbon-cutting ceremony attended by the Honorable William J. Perry, then-Secretary of Defense and General John M. Shalikashvili, then Chairman of the U.S. Joint Chiefs of Staff. Also, 90 attendees from 33 countries participated, including several ministers of defense and key international representatives.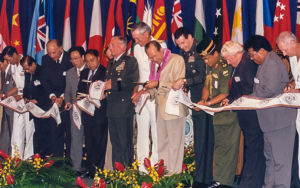 September 4, 1995
The Center was created to build on the strong bilateral relationships between the U.S. Indo-Pacific Command and the armed forces of the nations in the Asia-Pacific region, by focusing on the broader multilateral approach to addressing regional security issues and concerns.
Leadership
James T. Hirai

Brigadier General (Ret.), U.S. Army





Carleton R. Cramer

Captain (Ret.) U.S. Navy


&nbsp

Richard F. Sears

Captain (Ret.) U. S. Navy

&nbsp

Lori Forman

Ph.D. Professor

Area of Expertise: Development Assistance, Economics, Public-Private Partnerships and Civil Society

W. Brent Christensen

Area of Expertise: - China/Taiwan/Hong Kong, Economics/Trade, Environment, International Health
Our Team
Our team continues to apply the same rigor, passion, and innovation to make a positive difference in this complex and dynamic world we live in.
APCSS Editor
Mr. Krishna Bahadur Raut, received the 2021 DKI APCSS Alumni of the Year award for completing his Fellows Project titled, "Expansion of Emergency Operations in Nepal." DKI APCSS recognized Raut's contributions as an alumnus who significantly improved the peace and security within his country of Nepal and in the Indo-Pacific [...]