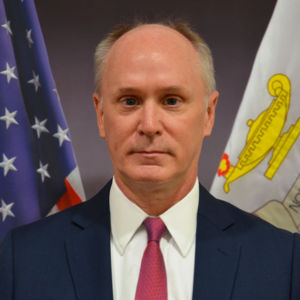 Mr. Henry Rector joined the Daniel K. Inouye Asia-Pacific Center for Security Studies (DKI APCSS) in September 2020 as a Senior Diplomatic Advisor (SDA) after a three-year posting as head of the Political Section at the U.S. Embassy in Bangkok, Thailand.  Mr. Rector is a member of the State Department's Senior Foreign Service, holding the rank of Counselor (military equivalent O7). Prior to his assignment in Bangkok, he was Deputy Political Counselor at the U.S. Embassy in Baghdad.  Drawing on 31 years of experience both overseas and in Washington, he has expertise in democratic transition, political-military affairs, and diplomatic engagement in fragile and post-conflict states. Mr. Rector is a recipient of the State Department's Superior Honor and Meritorious Honor Awards.
Mr. Rector has served nine years cumulatively in Southeast Asia.  As Political Counselor in Thailand from 2017-20, he promoted the Indo-Pacific Strategy and helped plan the visits of Secretaries of State Tillerson and Pompeo.  He also organized observation of Thailand's national elections in 2019, the first since the 2014 coup d'état.  From 2007-09, Mr. Rector was Deputy Chief of Mission in Timor-Leste, where he stood up the State Department's first English language teaching program in that country and facilitated participation by Timorese leaders in APCSS's seminar on drafting national security legislation.  From 2003-07, Mr. Rector was a Political Officer at the U.S. Embassy in Jakarta, where he engaged on Indonesian foreign policy, especially its participation in multilateral fora and international organizations including ASEAN and Asian summits.  Henry also reported on separatist unrest in West Papua, traveling to the province 15 times in four years.
Mr. Rector's secondary region of expertise is the Caribbean, which dates from an early posting to the U.S. Embassy in Barbados, a regional mission covering six other East Caribbean countries.  Later in Washington, he was Deputy Director for Caribbean Affairs (2010-12).  He has also served two tours of duty in Haiti, including as head of the Political Section (2012-14).
Having studied European politics and history, Mr. Rector has also had several assignments dealing with German speaking Europe.  He was assigned to the U.S. Embassy in Berlin in 1996-98, and was the analyst for Germany, Austria, and Switzerland in the Bureau of Intelligence and Research from 2000-03.  As Political Military Affairs Officer on the German Desk in 1993-96, Mr. Rector worked on status of forces and stationing issues as well as NATO enlargement and coordination on engagement on the Balkans.
Mr. Rector earned a B.A. cum laude in French and German from Rhodes College and an M.A. in European Studies from Indiana University, where his thesis on German-U.S. relations during the Libyan crisis of 1985 won the Department's award for best thesis of the year.  During his undergraduate and graduate education, he also studied at the universities of Tuebingen and Kiel in Germany.  In 2010, he received an M.A. in National Security and Strategic Studies from the U.S. Naval War College in Newport, R.I.  His thesis in the program's Joint Military Operations course was a study of Operation Astute, the Australian-led military deployment in Timor-Leste in response to civil unrest in 2006.  He speaks Bahasa Indonesia, German, and French.  His hometown is Little Rock, Arkansas.