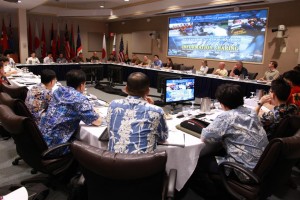 A workshop to improve and expand coordination between the U.S., Japan and the Republic of Korea during Humanitarian Assistance/Disaster Management activities was recently held at the Asia-Pacific Center for Security Studies.
"The workshop was an important event in the continuing evolution of the growing trust and confidence of the three nations in working together.  Three days of in-depth, frank and friendly discussions led to deeper understanding of the complex issues involved in sharing information for disaster relief and a stronger commitment to continue to work on practical ways to make information sharing easier among these three important nations, " said workshop coordinator Professor Herman Finley.
The four-day workshop was held April 14-16 in Honolulu with 39 participants.  Participants included 14 U.S. representatives, 11 Japanese representatives, 10 Korean representatives and four expert presenters. In addition, APCSS had nine staff and faculty in support of the workshop.
Discussions centered on five simple questions:
What information do we need to share to enhance understanding?
What do we need others to know about our actions/intentions?
Who do we need to share with?
How do we share these kinds of information?
What are the policy, technical and organization issues involved?
Each nation presented information on current HA/DR decision-making processes and information sharing processes, information sharing policies, and insights from their nation's participation in Haiti relief efforts.
Experts made presentations on use of internet based portals for information sharing and operational collaboration; emerging ways to display data to enhance understanding; and the unique needs and contributions of NGOs in information sharing.
The workshop also used a fictitious disaster scenario to help focus participant discussions on practical aspects of information sharing. 
Participants were enthusiastic about emerging technologies for sharing information and how those could be incorporated into individual nation's efforts for crisis response planning.  Of particular interest was the notion of a collaborative, internet based portal such as the Asia-Pacific Area Network (APAN).
The workshop concluded with discussion of "Ways Ahead", practical recommendations to the nations and the Defense Tri-Lateral Talks for future consideration.
The Asia-Pacific Center for Security Studies (APCSS) is a U.S. Department of Defense executive education, conference, and research center established in Honolulu on September 4, 1995.  The Center offers in-residence courses and outreach activities to help security practitioners expand their knowledge, improve their skills and develop professional networks of colleagues committed to enhancing effective security cooperation in the Asia-Pacific region.
-END-