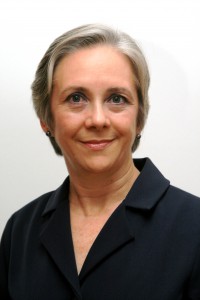 HONOLULU – The Asia-Pacific Center for Security Studies has selected Ambassador (Ret.) Lauren Moriarty as the new Dean of Academics in the College of Security Studies.
An Asia expert and former U.S. career diplomat, Ambassador Moriarty will join the Center as Dean this summer.
"I like the work the Center does to educate, empower and connect security practitioners in the Asia-Pacific region," said Ambassador Moriarty.  "I look forward to working with the faculty and fellows as we pool our expertise on politics, economics and security to build a more peaceful and prosperous Asia-Pacific region. "
Ambassador Moriarty retired from the U.S. Foreign Service in 2007, after a distinguished 29-year career. She is currently a community leader in Bangladesh and frequent public speaker.
In 2003-2005, Moriarty served as U.S. Ambassador and Senior Official to Asia-Pacific Economic Cooperation (APEC), an international organization whose 21 members accounted for over half of global production and almost half of world trade.  She served simultaneously as the Department of State's Deputy Assistant Secretary-level Coordinator for East Asian and Pacific Economic Issues.
Ambassador Moriarty headed the Economic Sections at the U.S. Embassy in China (1999-2001) and the American Institute in Taiwan (1994-1997).  She provided critical assistance to bring those two, major economies into the global economy as members of the World Trade Organization.  Ambassador Moriarty also served as deputy head of the American Institute in Taiwan (1997-1998), the institution established by the U.S. Congress to manage relations between the people of the United States and the people of Taiwan.
As Director of the U.S. Department State's Office of East African Affairs (2001-2003), Ambassador Moriarty was deeply involved in post-9/11 security issues in the Horn of Africa.  Earlier in her career, Moriarty was Diplomat-in-Residence at the East-West Center in Honolulu, Hawai'i.   She served additional tours at the U.S. embassies in China, Nepal, Pakistan and Thailand and at the American Institute in Taiwan.  She shaped policy on issues from multilateral aid to secure trade and action to counter threats from global pandemics and speed recovery from natural disaster.
Ambassador Moriarty holds a Bachelor of Arts (B.A.) from the University of Hawai'i and a Master of Arts in Law and Diplomacy (M.A.L.D.) from the Fletcher School at Tufts University.  Among her many awards is the U.S. Department of State's top award for leadership and mentoring.  Ambassador Moriarty was the first U.S. Ambassador of Native Hawaiian ancestry.
The Asia-Pacific Center for Security Studies (APCSS) is a U.S. Department of Defense executive education, conference, and research center established in Honolulu on September 4, 1995.  The Center offers in-residence courses and outreach activities to help security practitioners expand their knowledge, improve their skills and develop professional networks of colleagues committed to enhancing effective security cooperation in the Asia-Pacific region.
-END-