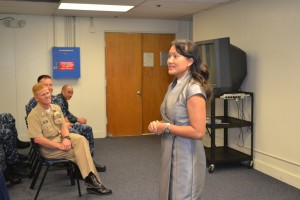 Asia-Pacific Center for Security Studies' Associate Professor Jessica Ear gave a talk to Sailors at the Afloat Training Group Middle Pacific (ATG MIDPAC) Pearl Harbor, to commemorate the Asian American Pacific Islander Heritage Month May 22.
She discussed key U.S. legislation that enabled equal opportunity for Asian American and Pacific Islanders. She also recognized notable figures such as Dalip Singh Saund, the first Asian American elected to Congress; Fred Korematsu whose law suit against his WWII internment brought about recognition of a U.S. wrong and compensation; Patsy Mink, the first woman of color and the first Asian American woman elected to Congress, who championed for equal opportunities in education; and the late senior Senator, Daniel K. Inouye, who President Barack Obama described as his "first political inspiration."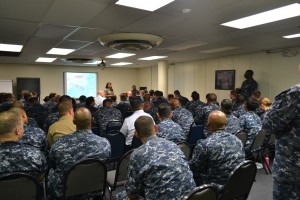 Prof. Ear also shared with the more than 40 ATG MIDPAC men and women present, the story of her family's plight from war-torn Cambodia and Vietnam, her journey through pirate infested waters of Southeast Asia and hard refugee days in Indonesia to her new life in the U.S. From her early days as a refugee learning English as a third language with her family on welfare and food stamps; to her graduation from the University of Hawaii Law School; to her time with the U.S. government educating Asia Pacific leaders and promoting security cooperation; Prof. Ear attributes her success to her parents' struggles and the legacy of all those who came before who fought for Asian American Pacific Islanders equal opportunity in the United States.
The personnel at ATG MIDPAC appreciated the contributions of Asian Americans and Pacific Islanders and highlighted the celebration of the Asian American Pacific Islander Heritage month with a potluck luncheon following Professor Ear's talk.
-END-