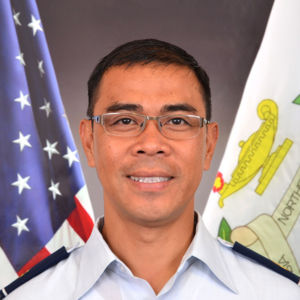 Major Botardo is currently assigned to the Daniel K. Inouye Asia-Pacific Center for Security Studies (DKI-APCSS) as USINDOPACOM Foreign Area Officer, with a regional focus in Southeast Asia. He joined DKI-APCSS in August 2017 as a Military Professor and College Operations Officer. Prior to joining DKI-APCSS, Maj Botardo was a student at the Naval Postgraduate School, Monterey, California studying Southeast Asia regional security studies under the Air Force International Affairs Officer Deliberate Development Program.
Maj Botardo is also a career Cyberspace Operations Officer. From 2004 to 2008, he served many positions at the Headquarters US Air Forces Europe, Directorate of Communications and Information at Ramstein AB, Germany. From 2008 to 2011, he served as a Flight Commander, 1st Joint Communications Squadron, Joint Communications Support Element at MacDill AFB, Florida. From 2011 to 2015, he was assigned to the Headquarters Air Force Space Command at Peterson AFB, Colorado serving multiple positions culminating as the Cyber Strategy Branch Chief, Directorate of Integrated Air, Space, and Cyberspace Operations. He has served on multiple deployments providing communications support to Special Operations Forces during Operations IRAQI FREEDOM and ENDURING FREEDOM.
Maj Botardo enlisted in the Air Force in 1994, and was later commissioned as a Second Lieutenant in 2004 after completion of the Air Force ROTC program from the University of South Florida. His military education includes Air and Space Basic Course, Squadron Officer School, Air Command and Staff College (correspondence), and U.S. Army Basic Airborne School. He holds a Master of Arts Degree in Regional Security Studies (Far East, Southeast Asia, Pacific) from the Naval Postgraduate School, a Master of Science Degree in Information Systems Management, and Bachelor of Science Degree in Management Information Systems.