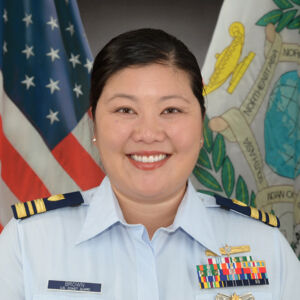 Lieutenant Commander Christine Brown came to the Daniel K. Inouye Asia-Pacific Center for Security Studies in June 2021 from Tokyo, Japan.
A native of Honolulu, Hawaii, she earned her commission from the U.S. Coast Guard's Officer Candidate School in 2006.  Her first assignment was at the Maritime Safety and Security Team- Anchorage, AK, where she served as a Deployable Team Leader and Maritime Law Enforcement Officer, conducting maritime security and homeland defense operations across the United States and its territories.  From 2009-2012, she served as the Supervisor of Marine Safety Detachment Quad Cities in Rock Island, IL, where she was responsible for vessel and facility safety/security, pollution response, marine casualty investigations, planning, and waterways management for 700 miles of the Mississippi River, Missouri River, and tributaries.  During this time she supervised Coast Guard operations during the 2011 Red River flood response in Fargo, ND, and worked alongside the U.S. Secret Service, providing waterside security for several presidential and vice presidential visits during the 2012 election season.  In 2012, Lt. Cmdr. Brown was assigned to Sector Honolulu as a Marine Inspector and Marine Casualty Investigator with the largest small passenger vessel fleet in the U.S. and 2,100 ship arrivals per year, ensuring regulatory compliance with U.S. and International laws and regulations.  In 2015, she attended the Johns Hopkins University School of Advanced International Studies in Washington, DC, under a Coast Guard sponsored graduate program.  From 2016-2018 she served at U.S. Africa Command in Stuttgart, Germany as a Communication Synchronization Planner, ensuring alignment of combatant command strategic themes and narratives with overarching governmental policies and directives.  In 2018, she reported to Activities Far East, Yokota AB, Japan, where she was the Senior Investigating Officer in an area of responsibility encompassing the Pacific and Indian Oceans.  She conducted marine casualty investigations on U.S.-flagged vessels and worked extensively with other flag states to ensure safe vessel operations.
Lt. Cmdr. Brown earned a Bachelor of Science in Marine Biology from the University of Hawaii at Manoa.  She also holds a Master of Business Administration degree in Project Management from Grantham University and a Master of International Public Policy from the Johns Hopkins University's School of Advanced International Studies.
Lt. Cmdr. Brown's awards and decorations include the Defense Meritorious Service Medal, Coast Guard Commendation Medal (3), Coast Guard Achievement Medal, Overseas Service Ribbon (2), and various unit awards and commendations.  She has also attained her Advanced Boat Force Operations and Marine Safety insignias.