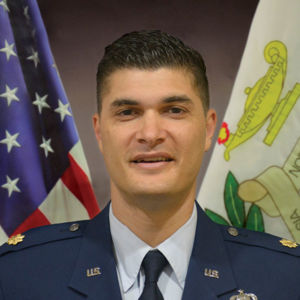 Major Anthony Brown joined the Daniel K. Inouye Asia-Pacific Center for Security Studies (DKI APCSS) in June, 2018.  Major Brown is the Regional Engagement Operations Officer, Regional Engagement Operations Department at DKI APCSS, Defense Security Cooperation Agency (DSCA), Honolulu, Hawaii.  He is responsible for the planning, development and execution of logistical requirements for senior leader engagements with 45 Indo-pacific nations to include workshops, dialogues and visits.
Major Brown was commissioned in 2006 through the Air Force Reserve Officers' Training Corps (ROTC) program as a graduate of Sonoma State University California.  As an Aircraft Maintenance Officer, he served in numerous Air Mobility leadership positions, ranging in operations with KC-10, C-17 and C-5 aircraft at McGuire Air Force Base (AFB), New Jersey, as Assistant Officer in Charge of an Aircraft Maintenance Squadron, Fabrication Flight Commander and Maintenance Flight Commander.  Major Brown deployed in various roles in Operation Enduring Freedom, Operation Iraqi Freedom and Operation Unified Response. In 2010, Maj Brown finished his operational experience in Aircraft Maintenance and transitioned to his core in Acquisition Management at the B-52 System Program Office, Oklahoma City Air Logistics Center, Tinker AFB, Oklahoma.  He held positions as a B-52 Program Manager directly in charge of the B-52 Software Block upgrade program and as the Acquisition Category (ACAT) II, Weapons Bay Upgrade Program Manager. Major Brown then moved on to be the Executive Officer to the Director and Chancellor, Air Force Institute of Technology, Air University, Wright-Patterson Air Force Base Ohio.  In 2016, he transitioned to the role of Air Vehicle Program Manager, UH-1N Nuclear Deterrence Operations Replacement Program, Helicopter Program Office, Wright-Patterson AFB Ohio and HH-60W Defensive Systems Program Manager before his current position at the Daniel K. Inouye Asia-Pacific Center for Security Studies.
Maj Brown's education includes a Bachelor of Science in Business Administration (Sonoma State University California), Masters of Business Administration in Project and Quality Management (California Intercontinental University), Air and Space Basic Course (Maxwell, AFB), Squadron Officer School (Maxwell, AFB), Air Command and Staff College (correspondence). He holds Defense Acquisition Level II and Program Management Professional certifications.