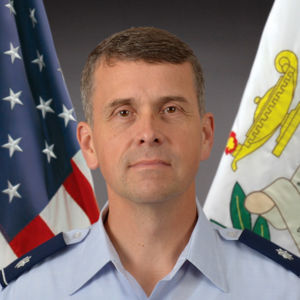 Lieutenant Colonel Mike Bucher joined the Daniel K. Inouye Asia-Pacific Center for Security Studies (DKI APCSS) in 2020 as a military faculty member. He is a U.S. Air Force Foreign Area Officer with extensive experience in the Indo-Pacific Region in the diplomatic corps and security cooperation enterprise.
Lt. Col. Bucher was commissioned in 1995 and first served as an aircraft maintenance officer when he added the F-16 to his portfolio of previous work on T-38, F-15 and FB-111A aircraft. In 2000 he transitioned to be a mathematical analyst and joined the teaching faulty at the U.S. Air Force Academy in Colorado Springs, Colorado as an Assistant Professor in the Department of Mathematics.  He further served as an analyst in various positions related to operational test and evaluation, including time on the B-2 Bomber program and as the Chief of the Analyses and Assessments Division at the Headquarters of the Air Force Operational Test and Evaluation Center in Albuquerque, New Mexico.
Concurrently, Lt. Col. Bucher built his international affairs expertise by serving in various positions in the Indo-Pacific, including for the Deputy Under Secretary of the Air Force for International Affairs as the Taiwan Desk Officer and as the Air Attaché to Myanmar at the U.S. Embassy in Yangon. He also deployed as a member of the NATO-led International Security Assistance Force to Afghanistan. Prior to joining DKI APCSS, Lt. Col. Bucher served as the Deputy for International Affairs at Pacific Air Forces Headquarters in Hawaii where he led a team that developed, coordinated, and executed the Commander's strategy with Indo-Pacific allies and partners.
His education includes Bachelor and Master of Science degrees in Mathematics and he is a Distinguished Graduate of the Naval Postgraduate School with a Master of Arts in National Security Affairs. He is also a graduate of the Defense Language Institute and various professional military education programs.
Lt. Col. Bucher's awards and decorations include the Defense Meritorious Service Medal, the Air Force Meritorious Service Medal, the Joint Service Commendation Medal, and the State Department Meritorious Honor Award.