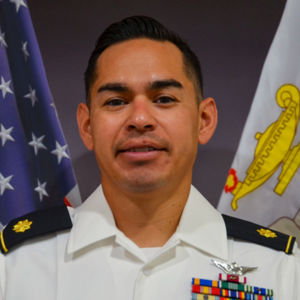 Major Daniel M. Cedillo Jr. came to the Daniel K. Inouye Asia-Pacific Center for Security Studies (DKI APCSS) in July 202 following his assignment with the United States Army Reserve Command as the Chief of Aviation Training & Standardizations.
A native of Fort Worth, Texas, he attended Texas A&M University and graduated with a B.S. in Wildlife Biology. In 2005, he earned a commission as a Second Lieutenant into Reserve Army Aviation. In 2006, he attended Initial Rotary Wing training at Fort Rucker, AL, and graduated from flight school in 2007. His first assignment was platoon leader for Alpha Company, 5-159th Aviation Regiment in Clearwater, FL. There he transitioned into the Active Guard/Reserve program (AGR) and deployed to Camp Buehring, Kuwait in 2009. Upon his return he was sent to the Captain's Career Course at Fort Rucker and graduated on the Commandant's List in 2011. Upon graduation, CPT Cedillo was selected to attend the Fixed Wing Transition course with a follow on assignment as the Assistant Operations Officer for 6-52nd Aviation Regiment in Los Alamitos, CA. Shortly thereafter he was selected to fill the role as the Operations Officer. In 2013, he was selected for Command of Alpha Company, 7-158th General Support Aviation Battalion (GSAB) in Fort Hood, TX. Upon the completion of a successful command, he was assigned to 8-229th Assault Helicopter Battalion (AHB) in Fort Knox, KY as an Assistant Operation Officer. On May 1, 2016, he was promoted below the zone to Major and was selected to attend the Command and General Staff Officer College (CGSOC). At CGSOC he was selected as 1 of 16 majors to participate in a foreign exchange program with Germany learning the NATO planning process and teaching the MDMP to Soldiers from several European nations. After successfully completing CGSOC MAJ Cedillo was sent to 6-52nd Aviation Regiment in Los Alamitos CA, as the Executive Officer. During his tenure, he was sent to the UC-35 course and for the second half of his tenure simultaneously executed as a Pilot in Command (PIC) in the C-12 and maintained Readiness Level 1 (RL1) in the UC-35. In 2019, He was sent to U.S. Army Reserve Command Headquarters, Fort Bragg, NC to perform duties as the Chief of Training and Standardization in the Aviation and Watercraft Directorate.
Maj. Cedillo earned a Bachelor of Science in Wildlife Biology from Texas A&M University and a Masters of Business Administration from Webster University. He was a PIC of the UH-60 A/L, a C-12V PIC, and maintained RL1 in the UC-35 jet. He has 1560 military flying hours and 118 imminent danger/combat hours.
Maj. Cedillo's awards and decorations include the Meritorious Service Medal(3), Air Medal(1), Army Commendation Medal(2), Army Achievement Medal(2), National Defense Service Medal (1), Army Service Ribbon(1), Overseas Service Ribbon(1). He has attained his Senior Aviation Badge, Pathfinder and Air Assault Badges.