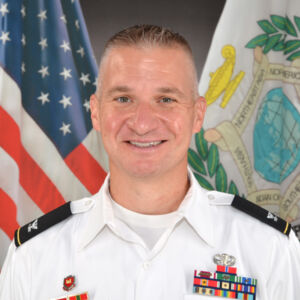 Colonel Jared Corsi joined the Daniel K. Inouye Asia-Pacific Center for Security Studies in 2021 as a military fellow. He brings a diverse blend of academic and military experiences to the center, including Defense Support of Civil Authorities, engineering and construction, project management, energy and environmental management, political-military affairs, public-private partnerships, national security, strategic planning, leadership, and workplace conflict resolution. He has a strong desire to help others realize their full potential and live happy, fulfilling lives.
Colonel Corsi holds an M.A. in National Security and Strategic Studies from the U.S. Naval War College; an M.S. in Environmental Management from Webster University; an M.M.S. from Marine Corps University; and a B.A. in Economics from Southern Illinois University at Edwardsville. His research areas on the Asia-Pacific region include Public-Private Partnership (PPP) opportunities to enhance Army Reserve readiness, Net Zero Energy Projects, and coral reef degradation in Indonesia.
As an Army Reserve Engineer Officer, he has traveled and operated throughout the Asia-Pacific region. With an international team of security practitioners from New Zealand, Australia, Britain, and the Cook Islands, he conducted Humanitarian Assistance and Disaster Relief (HADR) assessments and repaired boat docks to counter illegal fishing in Manihiki and Penryhn Islands. He has worked with the Federal Emergency Management Agency (FEMA) and the state/local governments from the Commonwealth of the Northern Marianas, Guam, American Samoa, and Hawaii on typhoon response efforts. Colonel Corsi also focused on energy resilience projects and managed operations and plans for all Army Reserve engineer units in the region, including their participation in multiple U.S. Army Pacific (USARPAC) exercises and construction partnerships.
Colonel Corsi is a certified Project Management Professional (PMP) and certified Protocol Specialist. He is a graduate of the Joint Humanitarian Operations Course and the Army Energy Manager Course. He earned the U.S. Navy Additional Designation Qualification for Information Operations.
In 2017, Colonel Corsi received a Federal Energy and Water Management Achievement Award from the Department of Energy.