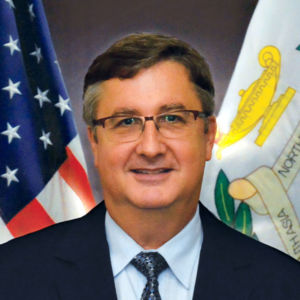 Dr. David Dorman joined the Daniel K. Inouye Asia-Pacific Center for Security Studies (DKI APCSS) in August 2019. Dr. Dorman has more than 35 years of experience working East Asian security issues while serving on Capitol Hill and in the U.S. Department of Defense. He was awarded the Presidential Rank of Distinguished Executive in 2012 for his support to U.S. national-level strategy and policy development, and the Chairman of the Joint Chiefs of Staff Joint Distinguished Civilian Service Award in 2016 for his contribution to improving the operational effectiveness of the Joint Force.
Before arriving at DKI APCSS, Dr. Dorman served for ten years as the Principal Advisor on China to four consecutive United States Indo-Pacific Command (INDOPACOM) Commanders (Admirals Keating, Willard, Locklear and Harris) and as the inaugural Director of the China Strategic Focus Group at INDOPACOM where he envisioned and implemented the $125M+ Department of Defense enterprise-wide China Strategic Initiative Program. Prior to INDOPACOM, Dr. Dorman served for four years (2003-2007) as the Executive Director of the Congressional-Executive Commission on China where he developed legislative and policy recommendations for 18 Members of Congress and 5 senior Administration officials on China's compliance with international human rights standards and development of rule of law and institutions of democratic governance.
Dr. Dorman has also served as a China Program Manager at the National Security Agency (2001-2003) where he was peer awarded "Master" status in both language analysis and intelligence analysis, NSA's top technical titles; Minority Staff Director of the Senate Foreign Relations Subcommittee on East Asia and Pacific Affairs (1999-2001) where he received bipartisan Committee recognition for "exemplary" staff oversight of U.S. foreign operations in East Asia; and as Foreign Policy Advisor to Senator Chuck Hagel (1997-1999) where he was Senate staff lead for the Nonproliferation Assistance Coordination Act. Dr. Dorman also served in the U.S. Marine Corps (1976-1980) at the U.S. Embassies in Colombo, Sri Lanka and Paris, France.
Dr. Dorman was awarded a B.A. with Honors in Economics from the University of New Mexico (1983), an A.M. in East Asian Regional Studies from Harvard University (1985), a M.A. in International Security from the University of Maryland at College Park (1996), and a Ph.D. in Government and Politics from the University of Maryland at College Park (2002). He is also a graduate of the American Institute in Taiwan (AIT) Chinese Language and Area Studies School (1989).