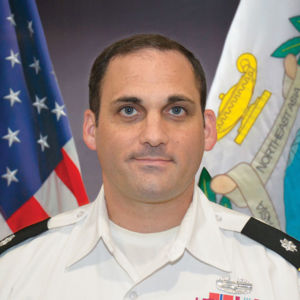 Lieutenant Colonel Mike Dorschner joined the Daniel K. Inouye Asia-Pacific Center for Security Studies (DKI APCSS) in 2019 as a military faculty member. As a U.S. Army Foreign Area Officer, he brings experience from living, studying, and working in a variety of positions around the Indo-Pacific region, with specific expertise in Northeast Asian security, Chinese relations, and security cooperation throughout Southeast Asia.
Lt. Col. Dorschner's previous assignment was in Mongolia, where he served two years as the U.S. Defense Attaché and Senior Defense Official at the U.S. Embassy in Ulaanbaatar.  Prior to that he spent three years as the Army Liaison Officer to the U.S. Consulate in Hong Kong, and three years as the Security Cooperation Chief for Southeast Asia on the U.S. Indo-Pacific Command staff.  He also studied in Beijing for 14 months, during which time he traveled extensively throughout China and the region.
Prior to becoming a Foreign Area Officer, Lt. Col. Dorschner spent eight years as an armor officer with the 1st Infantry Division, where he served with several tank units in Schweinfurt, Germany and Fort Riley, Kansas. While assigned to the 1st Infantry Division, he participated in operational deployments in support of Operation Joint Guardian in Gjilan, Kosovo, and Operation Iraqi Freedom in Baqubah, Iraq, where he spent 13 months as an embedded advisor to an Iraqi infantry battalion.
Lt. Col. Dorschner graduated from the United States Military Academy at West Point in 1999 with a bachelor's degree in military history.  He also earned a master's degree in East Asian Studies from Harvard University in 2012, and an associates degree in Chinese studies from the Defense Language Institute in Monterey, California in 2009.
Lt. Col. Dorschner's military awards include the Bronze Star medal, the Ranger tab, and the Combat Action Badge.