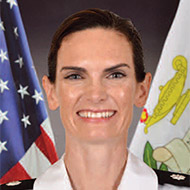 Lieutenant Colonel Jennifer Harlan came to the Daniel K. Inouye Asia-Pacific Center for Security Studies in August 2016. As a US Army strategic analyst, Lt. Col. Harlan has served at echelons ranging from platoon to corps and above.
From 2011-2013, Jenny was privileged to represent the US Army in the White House Situation Room, where she supported the President of the United States and the US National Security Advisor and coordinated with foreign national security leaders and their teams.
Most recently, Lt. Col. Harlan served with the US Army's I Corps, whose missions include building military-to-military
relationships and enhancing partner capacity in the Indo-Asia Pacific region.
Lt. Col. Harlan is a University of Michigan Army ROTC Distinguished Military Graduate, where she received a Bachelor of Arts degree with Honors in English. Jenny holds Master of Science and Master of Arts degrees. She also holds an International Baccalaureate Diploma.
Lt. Col. Harlan's international experience includes a combat deployment to Iraq, two tours in the Republic of Korea, thesis research in Kenya, and operations support in Japan and Australia.
Her awards include the Bronze Star, Defense Meritorious Service Medal, and Meritorious Service Medal. She has also been awarded the Presidential Service Badge and the Parachutist Badge.
Lt. Col. Harlan's current research interest is US defense cooperation with India and Vietnam.
Lt. Col. Harlan is a Road Runner's Club of America certified running coach. She has completed 11 marathons.
Printer Friendly PDF Version