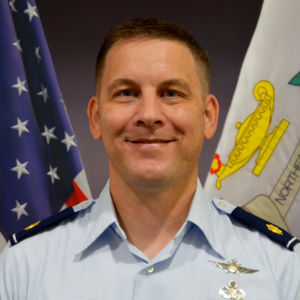 Maj. Nathan R. Hofferman came to the Daniel K. Inouye Asia-Pacific Center for Security Studies in August 2020 following his tour as the Executive Officer to the Deputy Commander, U.S. Air Forces in Europe-Air Forces Africa, Ramstein Air Base, Germany.
Maj. Hofferman entered the Air Force in September 1995 as an enlisted Tactical Air Control Party apprentice. He attended TACP technical training in Hurlburt Field, Fla. and graduated in March 1996. He earned an Airman Education and Commissioning Program scholarship in 2005 and attended Fayetteville State University in Fayetteville, N.C. After graduation, he earned his commission through Officer Training School in 2008.
Maj. Hofferman has held many positions in the communications field in his 25 years of active duty service. His assignments include locations in North Carolina, Florida, Colorado and Virginia and overseas assignments to Italy and Germany. He has five combat deployments in support of Joint, Special Operations and Conventional Forces in Afghanistan, Iraq and Qatar.
Maj. Hofferman holds a Master of Science Degree in Telecommunications Management from Oklahoma State University. He also holds a Bachelor of Science degree in Computer Science with a minor in Mathematics from Fayetteville State University.
His personal awards include the Meritorious Service Medal (Three Awards), Joint Service Commendation Medal (Three Awards), Air Force Commendation Medal (Two Awards), Army Commendation Medal, Air Force Achievement Medal (Five Awards) and various unit awards and commendations.