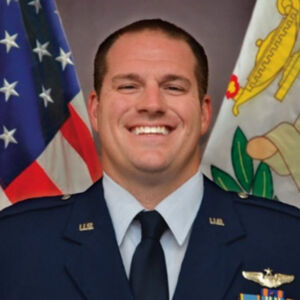 Major Curtis D. Holtman joined the Daniel K. Inouye Asia-Pacific Center for Security Studies (DKI APCSS) in June 2021 following his tour as the Director of Staff, 306 Flying Training Group, United States Air Force Academy, Colorado. A fifth-generation service member, he commissioned into the Air Force from Clemson University in Clemson, South Carolina with a Bachelor of Science in Economics.
Maj Holtman is a Senior Pilot with over 1,900 hours in the T-34C, T-1A, C-130J and TG-16A. He has over 230 combat flight hours and has flown missions in support of combat, security cooperation, and humanitarian operations in the Middle East, North America, Africa, Europe and Asia. Maj Holtman is a three-time instructor pilot, accruing over 700 hours of instruction across multiple airframes. He also has joint and interagency experience working in the Military Assistance Program Office of the United States Embassy of Jordan, Amman, Jordan.
Major Holtman holds a Master of Science degree in Aeronautics from Embry-Riddle Aeronautical University. His Professional Military Education includes the Air and Space Basic Course, Squadron Officer's School (Distinguished Graduate), Pilot Instructor Training (Distinguished Graduate), Air Mobility Command's High Flight, 'Dare to Lead' Leadership Development, and Air University's Leader Development Course for Squadron Command. He is also an Air Force certified Master Resiliency Trainer and a Lean Six Sigma Green Belt.
His personal awards include the Meritorious Service Medal, Air Medal (Two Awards), Aerial Achievement Medal, Joint Service Commendation Medal, Air Force Commendation Medal (Two Awards), Joint Service Achievement Medal, Joint Meritorious Unit Award, Air Force Outstanding Unit Award (Three Awards), the Combat Readiness Medal and Humanitarian Service Medal.