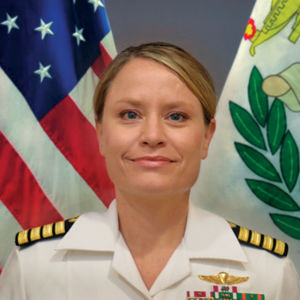 Captain McCann joined the Daniel K. Inouye Asia-Pacific Center for Security Studies in March 2019 as a Military Professor.
A native of Lubbock, Texas, Captain McCann graduated in 1998 with a Juris Doctor and Master of Business Administration from Texas Tech University and School of Law and is a member of the Texas Bar. She was commissioned in 1999 and shortly thereafter completed the Basic Lawyer Class at Naval Justice School. In 2017, she earned a Master of Laws in National Security Law (with distinction) from Georgetown University Law Center.
Captain McCann's staff and operational experience includes Staff Judge Advocate (SJA) at Naval Submarine Support Command Pearl Harbor; Operational Law Attorney for Multi-National Corps Iraq in Baghdad supporting Operation IRAQI FREEDOM; SJA for Naval Special Warfare Group Three; SJA for Carrier Strike Group Seven onboard the USS Ronald Reagan, completing a Western Pacific/Arabian Gulf deployment which supported Operations TOMODACHI, ENDURING FREEDOM-AFGHANISTAN, and NEW DAWN; SJA for Special Operations Command Pacific; Principal Deputy SJA for U.S. Indo-Pacific Command; and Assistant Force Judge Advocate for Submarine Forces, U.S. Pacific Fleet.
Captain McCann has completed several assignments within Naval Legal Service Command (NLSC) and the Office of the Judge Advocate General (OJAG). Within NLSC, she served as a Legal Assistance, Physical Evaluation Board and Defense attorney at Naval Legal Service Office Southwest and Command Judge Advocate at Naval Air Station North Island in San Diego. OJAG assignments include member of the Special Assistant for Transformation team and Deputy Director for Operations.
Captain McCann's personal awards and decorations include the Defense Meritorious Service Medal (three awards), Meritorious Service Medal (two awards), Navy and Marine Corps Commendation Medal (three awards), Navy and Marine Corps Achievement Medal (two awards), and Gold Parachute Wings.