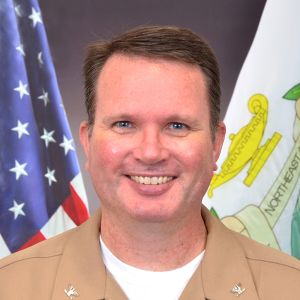 Captain Jim McMullin, a Naval Foreign Area Officer (FAO), came to the Daniel K. Inouye Asia-Pacific Center for Security Studies in December 2018 to serve as a Military Professor with a focus on Maritime Security Cooperation.
CAPT McMullin began his military career when he was commissioned to be a Submarine Warfare Officer in the U.S. Navy in May 1995. He is a graduate of several military and specialty schools including: Naval Nuclear Power School, Nuclear Power Training Unit, Naval Submarine School, Naval Diving & Salvage Training Center, Naval War College (non-resident), Joint Forces Staff College, and the Defense Language Institute.
CAPT McMullin's civilian education includes a Bachelor's in Ocean Engineering from the U.S. Naval Academy, a Master's in Security Studies (Far East, Southeast Asia, and the Pacific) from the Naval Postgraduate School, and a Master's in Business Administration from Auburn University.
His operational assignments at-sea include service aboard fast-attack submarines and an aircraft carrier, namely USS L. Mendel Rivers (SSN 686), USS Miami (SSN 755), and Carrier Strike Group SIX aboard USS John F. Kennedy (CV 67). He has deployed on missions in the North Atlantic, the Mediterranean Sea, and the Arabian Gulf.
His educational assignments include tours as a naval science instructor at Auburn University, a social science instructor and program manager at Naval Postgraduate School, a senior leader in the Navy Language, Regional Expertise, and Culture (LREC) Office, and a military professor at the Daniel K. Inouye Asia-Pacific Center for Security Studies.
His assignments as a Foreign Area Officer include tours with U.S. Naval Forces Central Command (Bahrain), Combined Joint Task Force – Horn of Africa (Djibouti), Chief of Naval Operation's staff for International Engagements, U.S. Embassy Dar es Salaam in Tanzania, American Institute in Taiwan, and the U.S. Military Training Mission to the Kingdom of Saudi Arabia.
CAPT McMullin's decorations include the Defense Superior Service Medal, Defense Meritorious Service Medal, Meritorious Service Medal, as well as other personal, unit, and campaign awards.
CAPT McMullin's Publications: