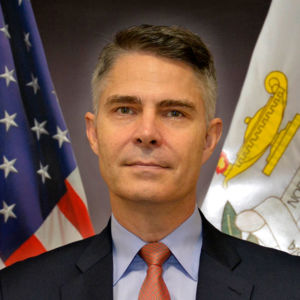 Dr. James M. Minnich joined the Daniel K. Inouye Asia-Pacific Center for Security Studies in August 2016. For three years he served as Associate Dean, Senior Military Professor, and Senior Military Officer before retiring as a U.S. Army Colonel after 37 years of active duty. Dr. Minnich has had extensive operational deployments and travels throughout Asia and in depth experiences in Northeast Asia since 1982, including 15 years of duty in South Korea.
Dr. Minnich's military assignments include Secretary of the United Nations Command Military Armistice Commission in Seoul, Korea, where he led a multinational organization responsible for negotiating and supervising armistice compliance on the Korean peninsula. Director of the Afghanistan Program at the Defense Security Cooperation Agency in the Pentagon, where he led the analyses, policy formulation and program execution of $33 billion defense program to equip, train and sustain the Afghan National Security Forces (ANSF). Acting Director/Deputy of the Security Assistance Office at NATO Training Mission Afghanistan in Kabul, Afghanistan, where he led four joint divisions in the management and execution of $45 billion to equip, arm and sustain the ANSF. Director of Policy and Operations and later Deputy Chief of the Joint U.S. Military Affairs Group Korea in Seoul, Korea, where he supervised the U.S. security cooperation policies, operations, and foreign military sales with the Republic of Korea. Policy Branch Chief for the United States Forces Korea in Seoul, Korea, where he planned, developed and implemented political-military policy, relating to the Korean peninsula and Northeast Asia.
Dr. Minnich is a senior service college distinguished honor graduate from the Korean National Defense University in Seoul, Korea. He earned a Doctorate of Education from the University of Southern California; Artium Magister Degree in Regional Studies-East Asia from Harvard University's Graduate School of Arts and Sciences in Cambridge, Massachusetts; Master of Science in Military Arts and Sciences from the U.S. Army Command and General Staff College in Fort Leavenworth, Kansas; and a graduate diploma in Korean Language Studies from Sogang University's Center for Korean Studies in Seoul, Korea. His doctoral dissertation was on Societal Violence Against Woman and National Insecurity: An Evaluation Study on Teaching a Gendered Security Perspective.
Dr. Minnich has been awarded the Defense Superior Service Medal (2 awards), Legion of Merit, Bronze Star Medal, Defense Meritorious Service Medal (2), Army Meritorious Service Medal (2), Army Commendation Medal (5), Joint Service Achievement Medal (2), Army Achievement Medal (8), Afghanistan Campaign Medal, Overseas Ribbon (11) and the NATO Non-Article 5 Medal. The President of the Republic of Korea awarded him the Samil National Security Merit Medal for his long, substantive service in the defense of Korea.
Dr. Minnich's publications include: "La política hacia Corea del Norte" in Military Review 73(2), 2018; "North Korea Solution: Changed Regime" in Military Review Online Exclusive, Jan 2018; "Changed Regime: A Policy to Resolve the North Korean Nuclear Crisis" in Military Power Revue, Dec 2017 "North Korea Policy: Changed Regime" in Military Review, 97(6), 2017; "The Year Twenty Twelve: South Korea's Resumption of Wartime Operational Control" in Military Review, 91(3), 2011; Political Legitimacy and South Korean President Park Chung Hee, Korean National Defense University, 2009; "National Security" in North Korea: A Country Study, U.S. GPO, 2008; North Korean People's Army: Origins and Current Tactics, Annapolis: Naval Institute Press, 2005; "Resolving the North Korean Nuclear Crisis: Challenges and Opportunities in Readjusting the U.S.-ROK Alliance," in ROK Turning Point, ed. Mansourov Alexandre Y. (Honolulu: APCSS, 2005), Chap 14; The Denuclearization of North Korea: The Agreed Framework and Alternative Options Analyzed, Bloomington, Indiana: First Books Library, 2002; "The Denuclearization of North Korea: A Critical Analysis of the 1994 Agreed Framework," The Korean Journal of Defense Analysis 14(2), fall 2002.
Dr. Minnich's Publications
---
External Publications
---