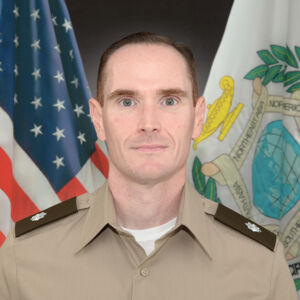 Lieutenant Colonel William Murray joined the Daniel K. Inouye Asia-Pacific Center for Security Studies in 2021 as a Military Fellow. As a U.S. Army Engineer Officer, he brings strategic planning and military partnership experience from a variety of positions in the Indo-Pacific region as well as Europe, the Middle East, and Central Asia.
Lt. Col. Murray recently served as the Deputy Brigade Commander for the 130th Engineer Brigade at Schofield Barracks, Hawaii. The 130th Engineer Brigade is the theater expert for all Army engineer operations in support of United States Army Pacific. Previously, LTC Murray served in the 2nd Infantry Division/ROK-US Combined Division, Republic of Korea, as an operational planner and engineer battalion operations officer.
Lt. Col. Murray's deployments include roles as an engineer platoon leader in 2-7 Infantry Battalion to Al Anbar, Iraq, in 2007; counter IED planner in 1st Armored Division in Baghdad, Iraq, in 2010; and engineer company commander in Ghazni, Afghanistan, in 2012.
Lt. Col. Murray graduated from the United States Military Academy at West Point in 2005 with a Bachelor of Science in Engineering Management. LTC Murray also holds a Master of Science in Geological Engineering from the University of Missouri Science and Technology, and a Master of Military Art and Science from the U.S. Army Combined Arms Center, School of Advanced Military Studies.
Lt. Col. Murray's military awards include the Bronze Star medal (two awards), the Combat Action Badge, and the Polish Army Medal in Bronze for service in support of Polish Land Forces in Afghanistan in 2012.