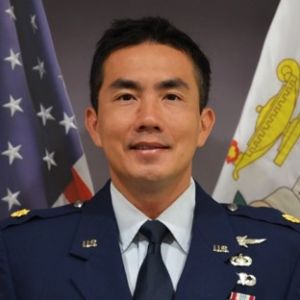 Maj Tin T. Nguyen, U.S. Air Force Foreign Affair Officer (FAO), joined the Daniel K. Inouye Asia-Pacific Center for Security Studies (DKI APCSS) in July 2020 as a military faculty member. Prior to his arrival at the center, Maj Nguyen served as the Senior Intel Watch Officer for the USINDOPACOM HQ directing theater ISR and providing strategic reporting directly to national military and civilian leadership.
Maj Nguyen began his military career when he was commissioned from the US Air Force Academy in 2005 as an Intelligence Officer. He is a graduate of several military and specialty schools including: Intelligence Officer Course, Combat Targeting Course, Air & Space Operations Center Formal Training, Intermediate Network Warfare Training, and Joint Professional Military Education (Level 2).
A Vietnam borne native, Maj Nguyen immigrated to the U.S. in 1990 and in 2001 answered the call to serve by way of entrance into the US Air Force Academy. After commissioning, Maj Nguyen served in various unit-level intelligence positions oversea to include: Okinawa (Japan) and Osan (Republic of Korea) before returning to the Continental U.S. as part of the National Security Agency (NSA). In 2014, Major Nguyen deployed to Afghanistan in support of OPERATION ENDURING FREEDOM where he was the NSA's representative to the US ARMY 10th Mountain Division as the Cryptologic Support Team Lead .
Upon completion of his tour at NSA, Maj Nguyen was chosen as an USAF Foreign Affair Officer to serve as a member of the Joint U.S. Military Advising Group – Thailand (JUSMAGTHAI) in the US Embassy Bangkok. There he assisted foreign partners with security cooperation, military to military engagements, and foreign military sales resulting increased bilateral and multilateral cooperation and integration with U.S. military forces.
Maj Nguyen holds a Master of Art in International Relations from the University of Troy as well as a Bachelor of Science degree in Physics from the US Air Force Academy.
His personal awards include the Defense Meritorious Service Medal (three awards), Joint Commendation Medal, Air Force Commendation and other various Unit awards and commendation.