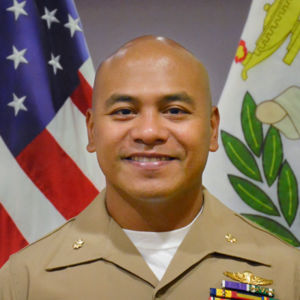 Major Armenio Salaguinto joined Daniel K. Inouye Asia-Pacific Center for Security Studies in July 2019 following his tour with 1st Battalion, 12th Marines. He enlisted in the Marine Corps in 1999 and served as a Reconnaissance Marine with 4th Force Reconnaissance Company, Marine Corps Base Hawaii.
In 2005, he served as a team member of 2nd Force Reconnaissance Company and deployed to Iraq in support of Operation Iraqi Freedom. In 2007, he was commissioned and assigned to 2nd Battalion, 10th Marine Regiment. In 2009, he deployed to Afghanistan in support of Operation Iraqi Freedom (OEF) and served as a Provisional Rifle Platoon Commander and the Officer in Charge of the Quick Reaction Force Platoon for Brigade Headquarters Group, Marine Expeditionary Brigade-Afghanistan.
In 2010, he reported to 3rd Battalion, 2nd Marine Regiment. In 2011, he deployed to Musa' Qala, Afghanistan in support of OEF as a Liaison Officer and Fire Support Coordinator where he was responsible for the coordination of surface and air-delivered fires in his battalion battle space. In 2012, he reported to 5th Anglico, III MEF, Okinawa, Japan as Firepower Control Team Leader and a Joint Terminal Attack Controller (JTAC). In 2013, he deployed to Afghanistan in support of OEF as a JTAC for a British Special Operations Group operating in the Helmand and Kandahar Province. In 2016, he was assigned to 1st Battalion, 12th Marines, 3rd Marine Division where he served as a Battery Commander and Regimental Assistant Fire Support Coordinator for 3rd Marine Regiment.
Maj. Salaguinto is a graduate of Expeditionary Warfare School (2016), Command and Staff College (DEP 2019), and has a Bachelor of Science degree in Criminal Justice from Chaminade University.
His personal decorations include the Purple Heart Medal, Five Navy and Marine Commendation Medals (Two with Valor), Two Combat Action Ribbons, the Gold Parachutist Badge, and various unit citations and awards.