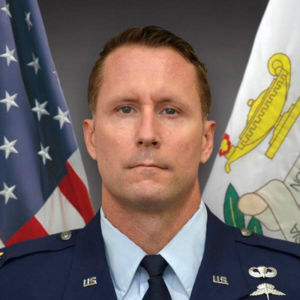 Major Michael D. Smith came to the Daniel K. Inouye Asia-Pacific Center for Security Studies (DKI APCSS) in June 2020 following his Operations Officer tour with Air Force Special Operations Command's 321st Special Tactics Squadron (STS). With 321 STS, he led two Special Operations Air-Land Integration deployments to the Baltic and Black Sea regions for Special Operations Command-Europe.
A native of El Paso, TX, he reported for Tactical Air Control Party (TACP) training at Hurlburt Field, FL in 1998 and earned his black beret in June 1999. Following Survival, Air Assault and Airborne School, he completed Joint Terminal Attack Controller (JTAC) training in 2001 and served with the 15th Air Support Operations Squadron (ASOS) in support of the 3d Infantry Division at Ft Stewart, GA. While there, he invaded and liberated Iraq in March 2003. From 2003 to 2006, he served as a JTAC for Detachment 2, 4th Air Support Operations Group in support of the 173d Airborne Brigade at Camp Ederle, Italy. In this role, he deployed to Afghanistan as part of a Special Operations Quick Reaction Force and earned the US Air Forces-Europe Pitsenbarger Award for Heroism.
In 2008, Major Smith completed Officer Training School and earned his commission as Top Graduate. He then reported to 5th ASOS at Ft Lewis, WA, where he completed his first Flight Commander tour. Following that assignment, from 2012-2014, he established and led the JTAC Weapons Instructor Course (WIC) at Nellis AFB, NV. This is the first primarily-enlisted WIC course in the 70-year history of the heralded USAF Weapons School. Following WIC, in 2014, he assumed duties as Detachment Commander for Det 2, 17th STS at Joint Base Lewis-McChord, WA. In this role, he served as Commander, Weapons Officer and senior JTAC supporting the 2d Ranger Battalion and two Special Operations Task Force deployments to Afghanistan. In 2016, he completed Military Freefall School and was selected as Chief of Weapons and Tactics for 720th Special Tactics Group at Hurlburt Field, FL. In this role, he led tactics and material solutions development for the Air Force Special Tactics enterprise.
Major Smith holds a Master of Military Operational Art and Science degree in Operational Warfare from Air University. He also holds a Bachelor of Science degree in Liberal Arts from Excelsior College and an Associate of Applied Science degree in Information Systems Technology from the Community College of the Air Force.
His personal awards include the Bronze Star Medal with Valor Device (Two Awards), Defense Meritorious Service Medal, Meritorious Service Medal (Three Awards), Joint Service Commendation Medal, Air Force Commendation Medal (Six Awards), Army Commendation Medal with Valor Device, Joint Service Achievement Medal, Air Force Achievement Medal (Two Awards) and the Army Achievement Medal.