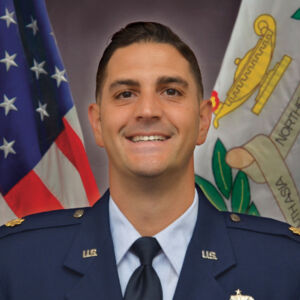 Maj. Marc Stanco was assigned to the Daniel K. Inouye Asia-Pacific Center for Security Studies in June 2021.  A native of  Long Island, NY, Maj. Stanco joined the Air Force in 2008 as a graduate of the University of Delaware's ROTC program. He earned his Bachelors Degree in Criminal Justice from University of Delaware and his Masters Degree in Homeland Security from American Military University.
Maj. Stanco is a career Security Forces officer having served in Flight Command, Convoy Command, Operations Officer and Squadron Command positions.  He has also deployed in support of Operation ENDURING FREEDOM.  In his most recent assignment, he commanded the 4th Security Forces Squadron at Seymour Johnson AFB, NC, a 282-member unit providing integrated base defense, law enforcement and antiterrorism operations for a base population of 24,000. Additionally, his combat-ready team protected 94 F-15Es and 16 KC-135 aircraft, valued at 5.2 billion dollars, while ready to respond to contingencies in support of Combatant Command requirements.
Maj. Stanco also has INDO-PACOM experience where he served at Andersen AFB, Guam, including a tour as the Executive Officer to the 36th Wing Commander and Deputy Commander, Joint Region Marianas. Additionally, he served at HQ Pacific Air Forces as a Security Forces Branch Chief, where his team led operational planning for the over 10,000 Security Forces serving in INDO-PACOM, as well as directed partner nation engagements for Security Forces throughout the theater in conjunction with the Pacific Air Force's Security Forces Readiness Training Center.
He is the Air Force's 2013 recipient of the League of United Latin American Citizens Military Service Award.  He was also selected as the 2014 Pacific Air Force's Security Forces Company Grade Officer of the Year.  Finally, while in command his Squadron was selected as the "Best Security Forces Squadron" in the Air Force for 2020.
Maj. Stanco's decorations include the Meritorious Service Medal (four awards), Joint Service Commendation Medal, Air Force Commendation Medal and Air Force Achievement Medal (two awards).