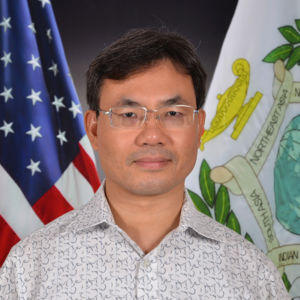 Dr. Alexander L. Vuving came to the Daniel K. Inouye Asia-Pacific Center for Security Studies in July 2008 from Tulane University, where he taught courses on International Relations, International Security, China and the World, and a field seminar in International Politics. Prior to Tulane, Dr. Vuving was a Research Fellow and an Associate of Harvard University's Belfer Center for Science and International Affairs at the Kennedy School of Government. He was also a Visiting Research Fellow at the Rajaratnam School of International Studies in Singapore.
Dr. Vuving spent his formative years in Vietnam, Hungary, France, and Germany during times of dramatic changes—the wars in Indochina, the collapse of communism, and the European unification. These events have helped shape much of his professional curiosity.
Dr. Vuving's research interests cut across International Relations, Comparative Politics, and Historical Sociology. His major areas of research range from functional topics such as the Sources of State Behavior, the Making of Grand Strategic Change, and the Workings of Soft Power, to regional issues such as Asian Security, the Rise of China, and Vietnamese Politics. He has published in major scholarly journals and presented at leading universities and think tanks around the world.
Dr. Vuving serves on the Editorial Board of Asian Politics and Policy, a journal of the Policy Studies Organization, and is a referee for Oxford University Press, International Security, and Asian Security, among others. He is the guest editor of a special issue on "How China's Rise is Changing Asia's Landscape and Seascape" for Asian Politics and Policy.
Dr. Vuving studied Political Science, Economics, Sociology, and Electronic Engineering at Cornell University, the Johannes Gutenberg University, and the Budapest University of Technology. He received his master of arts (summa cum laude) in Political Science, Sociology, and Economics, and his doctor's degree (magna cum laude) in Political Science from the Johannes Gutenberg University, Germany. He was a German National Merit scholar and a recipient of the prestigious Konrad Adenauer Foundation scholarship.
Dr. Vuving's Publications:
---