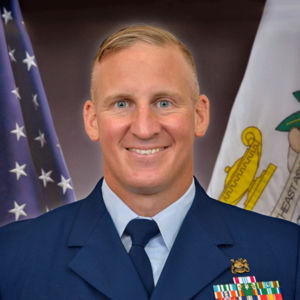 Lieutenant Commander Wilkins came to the Daniel K. Inouye Asia-Pacific Center for Security Studies (DKI APCSS) in July 2020 from Tokyo, Japan.
A native of Long Island, New York, he earned his commission from the U.S. Coast Guard Academy in 2004. His first assignment was on the Great Lakes where he served as a Deck Watch Officer and Maritime Law Enforcement Officer on a 225' ship. In 2006 he was assigned to a Deployable Specialized Forces unit in New York where he served as a Deployable Team Leader, Dive Officer, and Maritime Law Enforcement Officer, conducting a variety of maritime security and homeland defense operations across the United States and overseas. Following this tour in 2009, he served at the Naval Diving and Salvage Training Center in Panama City Beach, Florida, managing the United States Coast Guard's Diver Training Program. He coordinated, planned and conducted diver training with the US Army and US Navy and assisted with the creation of the USCG Diver rating. In 2012 he was assigned as the Executive Officer of another Deployable Specialized Forces unit in Boston, Massachusetts, overseeing the full gamut of maritime homeland security, maritime homeland defense, and law enforcement operations supporting the Boston Marathon Bombing and Superstorm Sandy response efforts. After his command tour, he served in the Kingdom of Saudi Arabia conducting maritime security cooperation and assistance operations. In 2016, he moved to Alameda, CA as the Logistics Department Head at the Coast Guard Maritime Intelligence Fusion Center Pacific. In 2018 he moved to Japan as the US Forces Japan Coast Guard Liaison Officer working closely with Japan Coast Guard, Japan MoD, the US Embassy, and DoD.
Lt. Cmdr. Wilkins earned a Bachelor of Science in Operations Research and Computer Analysis from the U.S. Coast Guard Academy, his Joint Professional Military Education from the Naval War College, and a Masters of Science in Quality Systems Management from the New England College of Business.
Lt. Cmdr. Wilkins' awards and decorations include the Defense Meritorious Service Medal, Joint Service Commendation Medal, Coast Guard Commendation Medal(3), Restricted Duty Ribbon, and Overseas Service Ribbon. He has attained his Diver Officer, Tactical Law Enforcement, and Advanced Boat Force Operations insignia.