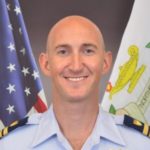 Lieutenant Commander Dustin R. Williams joined the Daniel K. Inouye Asia-Pacific Center for Security Studies as a Military Fellow in June 2017. His area of focus at DKI APCSS is strategic policy for maritime security, with an emphasis in freedom of navigation operations and regional security cooperation in the South China Sea, for the United States Coast Guard.
A native of Savannah, GA, he enlisted in the Coast Guard Reserves and attended basic training in Cape May, NJ in August 2000. He was later commissioned as an Ensign after graduation from Officer Candidate School in New London, CT in November 2003. His military education includes Naval Flight Training in Milton, FL and Naval Aviation Safety Officer course in Pensacola, FL. He is also a graduate of the following specialty courses: Army High Altitude Aviation Training, Coast Guard Advanced Helicopter Rescue School, Aviation Human Factors, Gas Turbine Investigation, National Transportation Security Board's Advanced Mishap Analysis, Contingency Planning Basic Preparedness and Exercise, and Incident Command System 440 – Planning Section Chief.
Lt. Cmdr. Williams graduated from the University of Georgia in Athens, GA with a Bachelor of Science degree in Secondary Education. He holds a Master of Aeronautical Science degree with distinction in Aviation Education Technology from Embry-Riddle Aeronautical University.
He recently completed a tour of duty at Coast Guard Air Station San Francisco, where he flew the MH-65D Dolphin helicopter as a Flight Examiner and served as the Assistant Operations Officer. As Assistant Operations Officer, he was responsible for the tactical and operational performance of a multi-mission air station charged with protecting 650 miles of coastline and operating six MH-65D helicopters, providing 24-hour launch capability at both San Francisco and Naval Base Ventura County. His previous assignments include Coast Guard Air Station Atlantic City, NJ and National Capitol Region Air Defense Facility in Washington, DC; Coast Guard Air Station Borinquen, PR; Marine Safety Unit Savannah, GA; Coast Guard Ceremonial Honor Guard in Alexandria, VA; and Marine Safety Office Mobile, AL.
His personal awards include three Coast Guard Commendation Medals; four Coast Guard Achievement Medals; the Army Achievement Medal; three Coast Guard Commandant Letters of Commendation; and is a Coast Guard Basic Training Honor Graduate.
Printer Friendly PDF Version