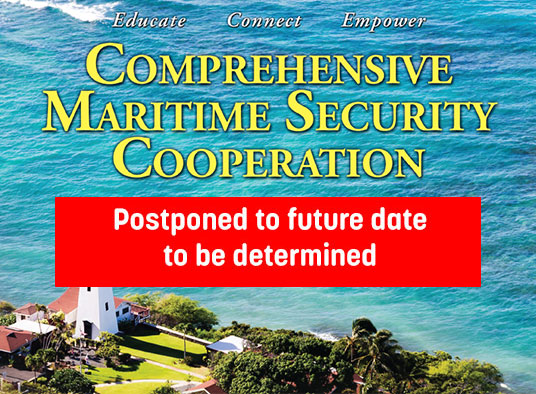 Comprehensive Maritime Security Cooperation (CMSC) 20-1
Mar 19, 2020

-

Apr 17, 2020
This four-week course is designed to advance the knowledge, skills, and networks of officials from governments, regional bodies and international organizations across the Indo-Pacific region who intersect with the maritime domain from a variety of security perspectives including economics, trade, transnational threats, environment, and food security. Along with Fellows who are maritime security policy advisors and practitioners in the maritime defense, safety and law enforcement agencies, the course will support a comprehensive approach to promote a free and open region and protect the rules-based international order, with a particular emphasis on the maritime aspects of that region and order.
The CMSC course will encourage the use of proven enablers for security cooperation, including interagency collaboration and coordination mechanisms, risk management measures, crisis negotiations and communication channels, and dispute resolution methods. The course will also promote the development and employment of best practices, confidence-building measures, information sharing systems, and rules-based approaches to identify opportunities and creatively address maritime security challenges lawfully, effectively, and efficiently.
Fellows from partner nations' Ministry of Foreign Affairs, Ministries of Commerce or Trade, Ministry of Defense (policy), Ministries of Environment or Agriculture (including fishing), Ministries of Transportation, port authorities, maritime law enforcement (especially Coast Guard, Marine Police, and Fisheries Enforcement), and the military will be particularly valued in this course. Fellows will also be recruited from relevant regional bodies, international and non-government organizations.
MASL SAP0007