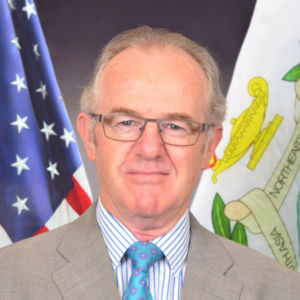 Dr. Christopher Snedden joined the Daniel K. Inouye Asia-Pacific Center for Security Studies in May 2014. He is an Australian academic and former practitioner who specializes in South Asia—particularly this region's politics, international relations, strategic matters, security issues, culture and religions, and regional affairs—Australia and Australasia, the Indian Ocean, particularly maritime matters, and Russia.
Dr. Snedden has had a long involvement with South Asia, having first visited India in 1981 to study meditation at an ashram and having backpacked around Pakistan in 1984. He has worked professionally on South Asian matters with the Australian Government in the Department of Defence's Joint (now Defence) Intelligence Organisation, Canberra (1984-1989), Department of Foreign Affairs and Trade, Canberra (1989-1990), and the Australian Transaction Reports and Analysis Centre, Sydney (1990-1994). From 1994-2014, he also ran his own consultancy, ASIA CALLING, which specialized in providing information to a range of government, business and university clients about South Asia, particularly re strategic, international relations, political, economic and cultural matters.
Interspersed with consulting, Dr. Snedden also worked as an academic specializing in South Asia with La Trobe University, Mildura (2002-2004), for the University of New South Wales, Sydney (2009), and Deakin University, Melbourne (2004-2009). The latter university outposted him at the Department of Defence's Centre for Defence and Strategic Studies (CDSS), Canberra, where he was intensely involved running a year-long Master of Arts (Strategic Studies) program for senior military officers and civilians from Australia and overseas, and with lecturing on South Asian and Asia-Pacific matters. From 2006-2016, as a Visiting Scholar, Dr Snedden delivered the CDSS's annual South Asia block. In 2011-2012, he was Dean/Head of College at the Navitas College of Public Safety (NCPS), Melbourne. In 2013, he returned to NCPS to teach a course on Terrorism.
Dr. Snedden completed his Bachelor of Arts (Modern Languages) degree in 1982 at the University of Canberra, with majors in Russian and political science. In 2001, following some innovative research, he completed his Ph.D at La Trobe University, Melbourne. His thesis argued that the diverse and disparate peoples of the princely state of Jammu and Kashmir instigated the so-called Kashmir dispute in 1947—and not Pukhtoons from Pakistan, as India has claimed and in which claim Pakistan surprisingly has acquiesced. In 2012, his groundbreaking work The Untold Story of the People of Azad Kashmir was published by Hurst and Co., London, and Columbia University Press, New York. In 2013, this book was republished in Pakistan by Oxford University Press using the same title, and in India by HarperCollins with the title Kashmir: The Unwritten History.
Dr. Snedden's latest book is Understanding Kashmir and Kashmiris, Hurst and Co., London, 2015, republished by Speaking Tiger Books, New Delhi, 2017. His latest article is "Azad Kashmir: Integral to India, Integrated into Pakistan, Lacking Integrity as an Autonomous Entity," in Chitralekha Zutshi, Editor, Kashmir: History, Politics, Representation, Cambridge University Press, Cambridge, 2018. His Regional Security Architecture: Some Terms and Organizations is at https://apcss.org/wp-content/uploads/2018/06/Regional_organizations_Snedden_Apr_2018.pdf. Dr. Snedden came to Honolulu from the Kyneton district, in Central Victoria, Australia.
Dr. Snedden's Publications:
---