The Comprehensive Security Cooperation (CSC) course is a 5-week in-resident executive program offered three times a year for mid-level military, government and non-government professionals who intersect with the security sphere. Each iteration of CSC requires Fellows to spend two-thirds of their time on cross-cutting complex transdisciplinary and transboundary challenges, and one-third on specialty content, or tracks, to deep-dive into priority concerns. The resulting cross-talk fosters relationships and networks between different security sectors. In parallel with presentations, discussions, and gray-zone exercises, Fellows assess security environments, identify disruptors, analyze threat systems, and probe governance issues while collaboratively building relationships and mutual understanding. Throughout the course, Fellows work on developing resilient solutions to real organizational and even regional security issues. These complimentary processes enhance the capacity of regional allies, partners and others to comprehend and cooperatively address complex security challenges in the Indo-Pacific region thereby advancing freedom, openness, prosperity, good governance, rules-based order, and a Free and Open Indo-Pacific.
Assuming COVID travel restrictions abate by spring of 2022, the following tracks for in-resident CSC courses are planned:
2022 Feb-Mar: Counter-Terrorism, Maritime Security, Economic Security
2022 May-Jun: Crisis Management, Cybersecurity, Strategic Studies, TBD Flex
2022 Sep-Oct: TBD, Counter-Terrorism, Maritime Security, Economic Security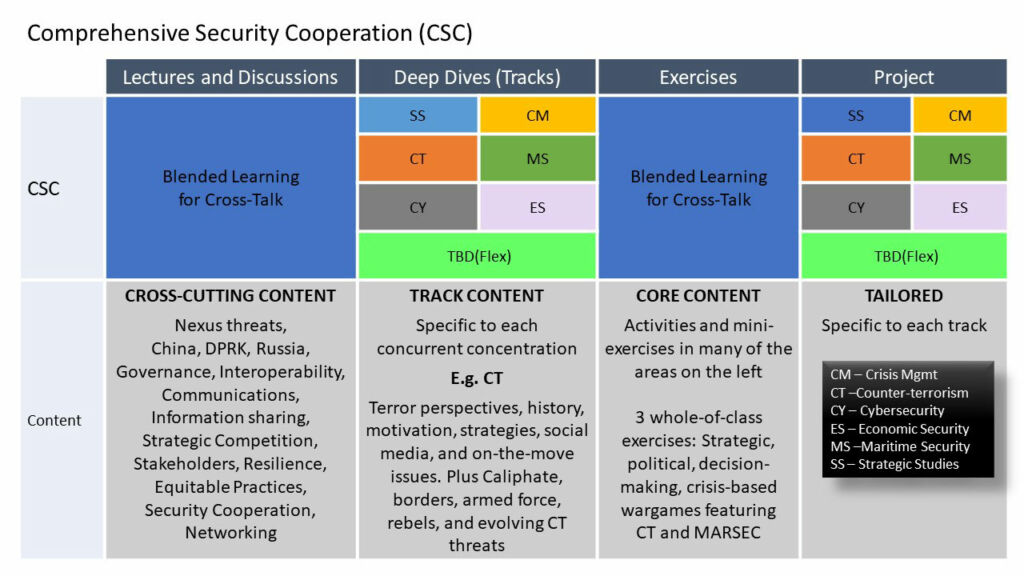 Counter-Terrorism (CT) Certificate
The Counter-Terrorism Security certificate track provides advanced, professional education for practitioners working in counter-terrorism (CT), irregular warfare (IW), counter-insurgency (COIN), countering violent extremism (CVE) and closely related fields. It aims to enhance understanding of terrorism, insurgency and IW—to include their role within broader strategic competition between States—and to critically assess the different response options through sharing of international experiences and best practices. This track builds a network of CT and security professionals, helping countries to successfully collaborate in the fight against terrorism, insurgency and IW, thereby contributing to a secure, free and open Indo-Pacific (FOIP). It is practitioner-focused and highly interactive, giving Fellows the opportunity to share their own experiences and lessons learned.
Crisis Management (CM) Certificate
We are living in a time of increasing complex challenges, threats and crises in which our leaders must master critical thinking and manifest a high degree of innovation and creativity to protect their organizations and people with robust systems-based approaches. This course introduces fellows to the fundamentals of crisis management and systems thinking. It places an emphasis on preparedness and being proactive, it offers models for fellows to use in assessing their own organizations, and it provides opportunities for applying concepts to practical situations. The Capstone project, and a broad selection of strategic and operational exercises and games allow fellows to formulate actual plans for one or more key crises, and practice and develop the necessary skills to cope with complex problems and manage major crises. This track emphasizes the integrated and cooperative efforts essential to risk assessment, preparedness, planning, response and recovery phases of a crisis and is suitable for all crisis managers and those working in emergency management, international humanitarian assistance, and public health.
Maritime Security (MS) Certificate
The Maritime Security certificate track explores the free and open Indo-Pacific concept and the maritime domain as it reviews traditional state-based and non-traditional transnational crime challenges, and avenues of mutual cooperation to address these challenges. The Maritime Security track increases understanding of the sea and the collaborative concept of maritime security, considers the global commons and the importance of sea control, sea power, and maritime domain awareness. The Indo-Pacific is a maritime region. Progress and prosperity are derived from the sea in this region. Great power competition and transnational crime are also taking place in the maritime domain. This program will therefore benefit all security practitioners and not just mariners. It also promotes enhanced understanding of the maritime domain, its special place in the Indo-Pacific region, its relationship with other domains, and ideas on how states and organizations can collaborate to improve maritime security. With this will come increased security and economic development leading to a free, open, and thriving Indo-Pacific region.
Cybersecurity (CY) Certificate
The Cybersecurity certificate track educates cybersecurity policymakers and leaders in three focus areas: governance, resilience, and response. This program exposes cybersecurity policymakers and leaders with non-technical, contemporary cybersecurity knowledge, resources, and best practices, which will help them to advance their cybersecurity national and/or organizational programs. The program is designed for mid-to-senior level cybersecurity practitioners who are leading cyber organizations or needing a strategic understanding of how cybersecurity impacts national security. After completing this program, participants will understand the need for international cooperation and responsible state behavior in cyberspace, the process of using national cybersecurity assessments to drive strategy and policies, the value of information sharing and public-private partnerships, and mechanisms needed for cyber incident response and long-term cybersecurity resilience.
Economic Security (ES) Certificate
The role of economic strength in promoting national security has been clear for centuries.  A strong economy enables countries to create a strong security sector but it also gives them the ability to use economic relationships to promote geopolitical ends.  The economic impacts of events like the financial crisis of 2008-09 and the current pandemic highlight the dynamic nature of economic power. The extent to which an economy is resilient to shocks like these has far reaching security implications.  The Economics Security certificate track gives security professionals a deeper understanding of the diverse linkages between economics and security in the modern, integrated global environment and how those linkages can be used to more effectively promote national security.  The track exposes Fellows to the tools of economic statecraft, the role of global and regional economic governance structures, strategic cooperation and competition in economics, the challenges and opportunities represented by the digital economy, and the role of international capital flows in promoting growth, development, and stability.  Through interactions with other Fellows, the ES track also enables Fellows to forge connections with other security officials interested in economic issues in the Indo-Pacific region and to develop a better understanding of the economic and security challenges faced by other countries.
The Strategic Studies (SS) track
The Strategic Studies (SS) track provides advanced education for professionals in government, the media, and civil society organizations whose work involves the analysis of the strategic environment and geopolitical landscape as well as the development of strategy for their own organization. It deepens understanding and enhances the critical assessment of the strategic environment, including but not limited to major structures, key trends, black swan events, and the strategic competition and cooperation among nations, especially in the Indo-Pacific region. Emphasizing active learning, action learning, and life-long learning, the Strategic Studies curriculum promotes critical thinking and sharpens skills of strategic thinking and strategy development. It builds a network of strategic analysts and security practitioners, helping organizations to deal more effectively with the changing strategic environment and enhancing the capacity of nations in working together for a free, open, secure, and prosperous Indo-Pacific.