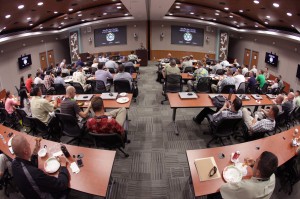 On November 6, APCSS hosted its first brown bag lunch seminar that was simultaneously live-streamed as a webinar.  Entitled, "Security Implications of Recent North Korean Behavior," the hour long presentation and discussion was provided by APCSS Director, retired Lt. Gen Dan "Fig" Leaf.   
Included in the live audience of 76 attendees were current Fellows from the Asia-Pacific Orientation Course (APOC) 13-3, various personnel from a concurrent joint workshop with the New Zealand Defense Force Command and Staff College, and other APCSS staff and faculty.  Additionally, participating online were 33 alumni and security practitioners from nine different countries throughout the world, who were able to partake in the presentation and have some of their questions integrated into the discussion by the seminar's moderator, Dr. Jeffery Hornung.
Building on the themes and topics of the previous, and the Center's first, webinar, "The Impact of an Isolated Regime on Asia-Pacific Security" held on August 14, 2013, this session provided enhanced commentary and insight on the Korean peninsula security dynamic and strategic security ramifications from the perspective of an official with extensive command experience in the area. The topics presented and questions posed spanned from threat and regime posture assessment, regional influencers and stabilizers, humanitarian assistance and diplomatic efforts, military options, internal and regional socio-economic impacts, and commentary on the possibility of future reunification efforts.    
A staple during many of the courses provided by APCSS, brown bag lunch seminars and presentations offer additional educational opportunities that present unique perspectives or topics and stimulate constructive dialogues on regional security sector issues. Having the existing technological resources available at APCSS to broadcast these sessions provides an additional and emerging method to engage alumni in a more robust capacity that the Center is excited to utilize more frequently. Look for more of these lunch time seminar and discussion to be broadcasted as webinars in the future.       
For those alumni who may have missed or been unable to participate in the live version of this webinar, a copy of this session will be made available via the APCSSLink website in the near future.    
 -End-