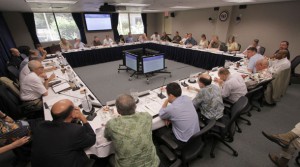 Recently representatives from the five Regional Centers, Office of the Secretary of Defense (Policy), Defense Security Cooperation Agency and various Combatant Commands met in Honolulu to review regional center programs and share best practices. 
Hosted by the Asia-Pacific Center for Security Studies (APCSS), items discussed included participation in RC programs, measures of effectiveness, sharing of subject matter experts, and updates on various budget and IT-related issues. 
According to APCSS Director Lt. Gen. (Ret.) Ed Smith, "Bringing the Regional Centers together, among those who sponsor these centers, and sharing current and future initiatives, learning models, best business practices and needs helps all better prioritize efforts to help meet those needs." 
The five Regional Centers include: APCSS, the Africa Center for Strategic Studies, the Center for Hemispheric Defense Studies, the George C. Marshall European Center for Security Studies, and the Near East South Asia Center for Strategic Studies.